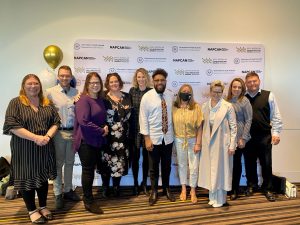 This year two HenderCare Foundation team members were nominated for the awards. Julie was nominated by HenderCare Foundation for 'Improving health and development outcomes for children and young people in care' while Luke was nominated by HenderCare Foundation for 'Aboriginal and Torres Strait Islander Child Placement Principle'
Julie: Nominated by HenderCare Foundation for 'Improving health and development outcomes for children and young people in care.'
Julie, a residential care worker, joined HenderCare Foundation in April 2006 and has cared for many children and young people (CYP) of all ages, abilities and backgrounds over the past 15 years. Julie's child-centred approach to supporting CYP with complex trauma is highly valued.
"I do the work because I do love having an impact. It might only be one little thing with each CYP – it might be insignificant to other people – but to them, it is something they might take through life. I have found it is becoming a lot more challenging since I first started; CYP seem to be going through more issues these days. Thankfully I enjoy learning, and I like to keep up with technology. At the moment, I am learning a lot about gender identity, anc understanding the new terms around this is amazing for me – and really important for CYP,"   says Julie
Julie's Manager states:
"The CYP respond well to Julie, and she has been able to impact their lives in many positive ways. Julie has worked in some of the most challenging situations and makes it look seamless. Julie is calm, experienced, and manages tough situations exceptionally well, persevering through challenges because she believes in the CYP. Julie focuses on building rapport, developing relationships of trust and building independent living skills through various activities while managing expectations, including setting firm boundaries where required."     
Julie has built many strong professional relationships and advocates positively for CYP to get the best outcomes. A current DCP Senior Youth Worker notes:
"Julie has great insight into trauma and works particularly well with young people who have had a lot of historical trauma. She really knows the right way to approach things. She communicates with empathy and responds appropriately to their needs."
Luke:Nominated by HenderCare Foundation for 'Aboriginal and Torres Strait Islander Child Placement Principle'
Luke Parter is an Aboriginal man with proud connections to land and country; Wiradjuri on his Dad's side and Juru on his Mum's side. Luke is a current Residential Care Worker with HenderCare Foundation, joining in July 2020 after experience working in Queensland residential care settings.
In early 2021, HenderCare Foundation worked together with Bradford Institute of Advanced Education to deliver a bespoke Cert IV Child, Youth and Family Intervention training program focused on attracting and retaining Aboriginal staff to better meet the needs of Aboriginal children and young people in the care of the child protection system.  Cultural mentoring was a key component of the program, designed to offer program participants a culturally safe and welcoming environment. Luke expressed an interest in mentoring, stating he, "would've liked to have had someone to yarn to when I first got to work and didn't know much" and having an acute awareness that new Aboriginal staff "would be more comfortable talking with people from their mob". 
Luke engaged enthusiastically with the program participants and said: "I really enjoyed it – being able to be there, to yarn with them about work, help prepare them for it and share stories."      
The program participants found Luke relatable and appreciated that he was committed and remained accessible through the program; they found the mentoring was a great option to communicate about work and to focus especially on the needs of Aboriginal children and young people.  Luke was able to support the participants with an understanding and applying the Aboriginal and Torres Strait Islander Child Placement Principles, especially Partnership, Participation and Connection within a residential care setting; he is an outstanding role model for new Aboriginal staff and is confident in supporting non-Aboriginal staff to be more culturally relevant in their work with Aboriginal children and young people.
Congratulations to all the nominees and winners of the 2021 South Australian Child Protection Awards!